Age Invaders
Problems Identified
Problems Explored
The cultural and generation gaps between the young and old have been growing in our modern age. This project introduces Age Invaders, a novel social physical game which allows the elderly to play harmoniously together with children in physical space. To design good games which are accessible for both children and the elderly can not only bridge the generational gap but also promote the elderly's mental and physical vitality.
Images : http://www.twango.com/channel/mxrlab.ageinvaders
Video : http://www.youtube.com/watch?v=kkA9iFrHq_0
Web: http://ageinvaders.mixedrealitylab.org/
Age Invaders uses a fusion of technology and art to make a new form from the traditional arcade game space invader which is played in the physical game space. The game parameters are adjusted such that older players have more time to react to slow rockets fired by young opponents; conversely young players have to react much faster ones launched by the older opponents. Thus this game balanced physical ability across generation.
With the increase of technology, there is a huge gap between youth and elderly culture. Present technology does not often allow the facilitation of family entertainment. Most children greatly enjoy playing computer games from childhood and most of them do not like to take part in more elderly-style games such as chess games or fishing. Moreover, most of current computer and video games do not involve physical body movements and social interactions which are proven to be essential for the enjoyment of life. AI is a novel interactive intergeneration social-physical game that allows the elderly to play harmoniously together with children in physical space while parents can participate in the game play in real time through the internet.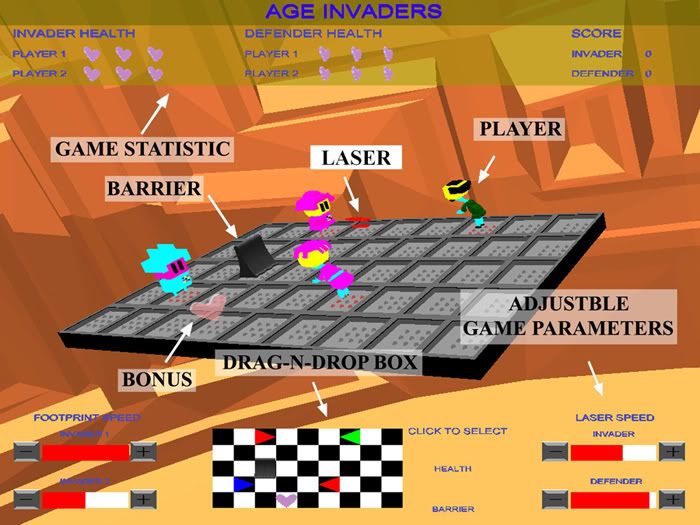 CHI 2006 Video Documentation
http://www.mixedrealitylab.org/media/all videos/CHI2006/CHI2006_webversion.mov (123.9MB, 4.55mins)
The main goals of Age Invaders focus on four major areas: social, physical, cognitive and psychological. The social aspect emphasizes family and inter-generational social interaction, sharing and support. The physical aspect attends to the elderly and young's need for physical exercise and expression. The cognitive aspect stimulates the mental functioning and improves the elderly adult's mental stimulation. The psychological aspect refers to promoting personal integration, to the expression of emotions, and feelings of self-worth and wellbeing in a family interaction context. Parents in modern society often have mobile and digital life style. They may be busy at work and go frequently on business trips; hence it is not always possible to physically interact with their family. Age Invaders is not aimed to replace traditional family interaction; instead it is aimed to further enhance the family interaction and bridge the physical distance between family members through real time remote internet interaction with the physical real world.
Press/Media:
Article on Age Invaders on Italy Newspaper
http://lucachittaro.nova100.ilsole24ore.com/2007/10/age-invaders-no.html
http://www.mixedrealitylab.org/MEDIA/newspaper/ItalyNewspaper.jpg
Article titled "Technology in the arts"
Source: Digital life, The Straits Times, Singapore, 6th March 2007
http://www.mixedrealitylab.org/MEDIA/newspaper/NAF07 - ST Digital Life - 6 Mar 07 (Techno Arts).jpg
Article titled "Art, technology fuse on stage"
Source: The Straits Times, Singapore, 20th March 2007
http://www.mixedrealitylab.org/MEDIA/newspaper/NAF07 - ST Digital Life - 20 Mar 07 (Techno Arts).jpg
Article titled Age of the new "invaders"
Source: NUS Research Gallery
http://www.nus.edu.sg/corporate/research/gallery/research97.htm
page revision: 20, last edited: 06 Nov 2007 09:29